Episcus and Edendus: A Ten-Minute Musical
Book and Lyrics by Greg Edwards, Music by Ron Barnett
Set in Ancient Rome, Episcus and Edendus is a musical tale about a Christian and a lion who reject the roles assigned to them by society and instead dream of, and schlep to, a world where they can both be free. Namely, Portugal.
Episcus and Edendus was a finalist for 2016 City Theatre National Award for Short Playwriting.
Characters
EDENDUS, a Christian
EPISCUS, a lion
PRIMA, SECUNDA, and TERTIA, a Roman Greek chorus
Productions
Artistic New Directions (New York, March 2009)
BMI (New York, June 2008)
Photos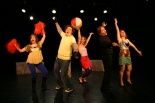 Selections
Read the script. Or listen to some tunes:
Backstory
In May 2008, Ron and I were paired up randomly for BMI's ten-minute musical assignment. As we brainstormed possible character relationships, Ron suggested a Christian and a lion. This appealed to the side of me that enjoys seeing people being eaten by wild animals (a very large side of me), and we wrote Episcus and Edendus.